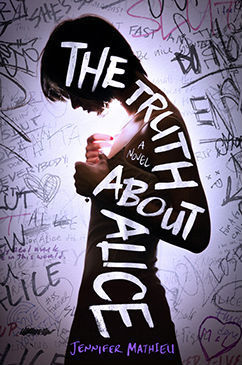 Title:
The Truth About Alice
Author
: Jennifer Mathieu
Version Read
: E-book provided by Netgalley in exchange for an honest review.
Website
:
http://www.jennifermathieu.com
Goodreads synopsis:
Everyone has a lot to say about Alice Franklin, and it's stopped mattering whether it's true. The rumors started at a party when Alice supposedly had sex with two guys in one night. When school starts everyone almost forgets about Alice until one of those guys, super-popular Brandon, dies in a car wreck that was allegedly all Alice's fault. Now the only friend she has is a boy who may be the only other person who knows the truth, but is too afraid to admit it. Told from the perspectives of popular girl Elaine, football star Josh, former outcast Kelsie, and shy genius Kurt, we see how everyone has a motive to bring – and keep – Alice down.
About this author
Review:
So I read this book some time ago and sadly have just now gotten around to writing a review about it.
Just about everyone knows how the rumor mill ran in high school. The He said She said nonsense can take a simple and innocent story and have it exaggerated so that so and so saved the school with one hand while eating a burrito and being pregnant, or in the case of The Truth About Alice, it can have the negative affects of things that are really no one's business.
And ok, so it is the typical high school story of that one girl who slept with two boys at a party and becomes an outcast. One of those boys dies, peoples lives are turned upside downs. I am sure you can find plenty of after school television shows about it and plenty of other story lines out there to read about it. The difference with this book that kept me invested even though it was pretty obvious where it was going was that the story was told through 4 different point of views. None of which are Alice.
The bullying in this book was a hard topic for me to not relate to, high school were not my best days and you could not make me redo them even if you paid me a million bucks. So it was easy to fall in with the characters, from the friends ditching to be cool, to the bullying. It all hit home for me and brought back memories I had tried to bury about high school.
I do believe this would be a great required reading book in high school because it might help kids get out of their own heads and stop listening to the whispers that go from ear to ear and realize that there really is three sides to a story. His Side, Her Side and then the Truth. That you really ought to look at the person spreading the rumors in order to see if they are hurting like the characters in The Truth About Alice where and pushing it on someone else instead of facing their problems and handling them accordingly.
Favorite Character:
Kurt by far was my favorite character, he was just so cute and nerdy that I wanted to shake Alice and make her wake up and see what a gem was right in front of her. I like that his loyalty stayed with Alice even through all the horrible rumors.
Rating:
4 out of 5 Stars.