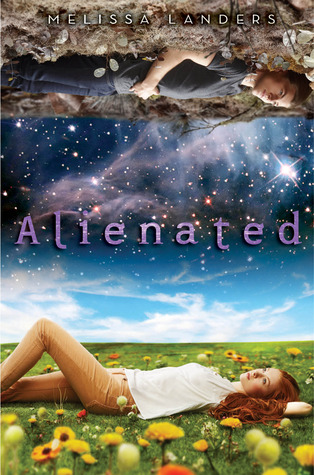 Title:
Alienated
Author:
Melissa Landers
Pages:
344
Genre:
New Adult, Teens & YA
Version Reviewed:
e-book provided by netgalley in exchange for an honest review
Publication:
February 4th 2014 by Disney Hyperion
Website:Author Website
Add The book on goodreads:Here
Where to buy it at:
Amazon
Barnes & Noble
Goodreads synopsis:
Two years ago, the aliens made contact. Now Cara Sweeney is going to be sharing a bathroom with one of them.
Handpicked to host the first-ever L'eihr exchange student, Cara thinks her future is set. Not only does she get a free ride to her dream college, she'll have inside information about the mysterious L'eihrs that every journalist would kill for. Cara's blog following is about to skyrocket.
Still, Cara isn't sure what to think when she meets Aelyx. Humans and L'eihrs have nearly identical DNA, but cold, infuriatingly brilliant Aelyx couldn't seem more alien. She's certain about one thing, though: no human boy is this good-looking.
But when Cara's classmates get swept up by anti-L'eihr paranoia, Midtown High School suddenly isn't safe anymore. Threatening notes appear in Cara's locker, and a police officer has to escort her and Aelyx to class.
Cara finds support in the last person she expected. She realizes that Aelyx isn't just her only friend; she's fallen hard for him. But Aelyx has been hiding the truth about the purpose of his exchange, and its potentially deadly consequences. Soon Cara will be in for the fight of her life—not just for herself and the boy she loves, but for the future of her planet
Review:
It took me three tries to read this book, not to say that it was written poorly but because I was just pregnant. Which sums it up in a nutshell because while pregnant I didn't want to read very much and have actually just now gotten the drive back to get back into reading and reviewing.
I decided to try one last time in my effort to clear my TBR list that always seems to grow and started this over from the very start. It was a decision that I don't regret once bit because this book kept me fairly occupied when my child slept.
It actually reminds me of a better version of the television show "Starcrossed." Only this book seemed to focus more on the action then the inter species romance. The danger in this story is something that I would come to expect in an everyday setting when facing people with something unknown and fueling their fear with ignorance and hate.
I have read some reviews on this book and I will not lie I was kind of floored by how some people took this book. They didn't think it was creative because the planets where alike but they did not stop to think that in order to house a species so close to human kind the atmosphere would have to be similar. And they where not entirely alike, there was not as much color or scents as Earth. Same went for their food, it was all grassy and roots, the textures and the spices Earth used was to much.
I don't understand the bashing on the fact that the aliens where so alike except for a belly button and no pinky toe. It is obvious from the cover that they are gonna be extremely alike.
I think what my favorite aspect of this book was that unlike so many other books there was no instant romance. The characters did not fall in love at first sight, rather they disliked each other until they began to learn more about one another. I like that this book took the time, pretty much the entire book, to set up a good foundation for a relationship even through the lies.
Strangely enough I find myself excited for the second book which is a big step for me because I am not a huge fan of aliens novels. I am excited to see how they do on their separate planets with different people and different situations.
Rating:
3.5 out of 5 Stars!