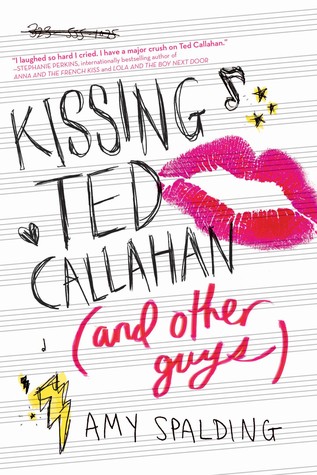 Title:Kissing Ted Callahan ( And other guys)
Author:Amy Spalding


Authors Website

Add the book on Goodreads
This book was provided by netgalley in exchange for an honest review.
Synopsis:
Nick and Norah's Infinite Playlist meets Easy A in this hilariously realistic story of sneaking out, making out, and playing in a band.

After catching their bandmates in a compromising position, sixteen-year-old Los Angelenos Riley and Reid become painfully aware of the romance missing from their own lives. And so a pact is formed: they'll both try to make something happen with their respective crushes and document the experiences in a shared notebook.

While Reid struggles with the moral dilemma of adopting a dog to win over someone's heart, Riley tries to make progress with Ted Callahan, who she's been obsessed with forever-His floppy hair! His undeniable intelligence! But suddenly cute guys are popping up everywhere. How did she never notice them before?! With their love lives going from 0 to 60 in the blink of an eye, Riley and Reid realize the results of their pact may be more than they bargained for
Review:
I love this book! It was a quick read for me but it was a fun one. Like all high school kids I wrote in a note book and passed it back and forth between my friends as we went from one class to the next so this book was one I could easily relate to,even as an adult.
Part of why I liked this book so much was the innocence in the book, even when they did the big IT, it stayed true to the characters personality and there was no details just that kinda awkward declaration that you are no longer a virgin.
I liked the music aspect as well, it fit right in with the story.
It was cute watching them struggle and discover the tricky world that is dating, especially in high school. I even rooted for the good guy and was glad that things went smoothly for him in the end. Normally I am all for the trick ending, woe is me, or the bad guys wins since those endings are never given but in this book the characters are so easy to relate to, it made me think they were real life friends and I wanted the best for them.
This is definitely the book I will recommend to my younger siblings who are still in high school.
Rating:

4 out of 5 stars!